Anyone who has purchased a new, high-quality acoustic stringed instrument knows that it takes a long time to "break in" the instrument so that the full tone of the instrument can be heard. ToneRite claims to have produced a product that significantly shortens the time it takes for the tone of a violin, cello, or guitar to mature. ToneRite says:
By simulating the very same physics of playing, in a safe and gentle manner (ToneRite applies less structural stress than playing yourself), the ToneRite Signature is able to accomplish more than previously thought possible. According to our customers, in 24hrs the ToneRite Signature accomplishes what would normally take 6 months worth of playing.
You simply place the ToneRite device by the bridge of the instrument, and the device does the rest of the work. ToneRite claims that audible results can be heard after just one hour. I haven't had a chance to test this on my classical guitar, but I'd be interested in hearing if anyone else has used one of these devices. For further information on why a device like this is useful, take a look at the research posted on ToneRite's Web site.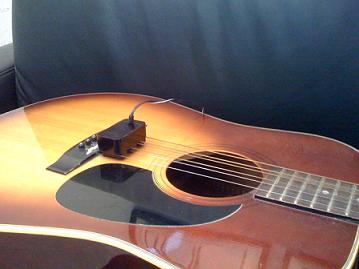 * Photo courtesy ToneRite.com
(via Taylor)