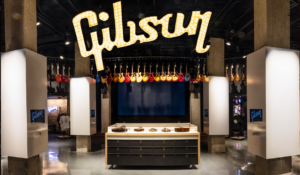 Last week Gibson opened a new retail store here in Nashville that they're calling the Gibson Garage. Here's a short blurb from Gibson about the store:
The Gibson Garage, located in the heart of Downtown Nashville, combines a live performance venue with interactive brand storytelling, a Custom Shop Made To Measure experience, historical and celebrity memorabilia displays, a Repair & Restoration Center, and a public retail shopping experience with hundreds of guitars, amps, and pro audio gear from Gibson USA, Gibson Acoustic, Gibson Custom Shop, Epiphone, Kramer, Mesa Boogie, and KRK.
Prior to the Nashville flood in May of 2010, Gibson had a retail store not far from where I work in my day job, and I would often go check it out. The store had pretty much the entire line of guitars, including many Custom Shop models that were hard to find in other retail stores. It was a fun experience, and I was able to play a bunch of Custom Shop guitars.
It seems like the new Gibson Garage is doing the same thing with carrying the full line of Gibson, Epiphone, and Kramer guitars, as well as Mesa Boogie amps. It's also interesting that there's a Made to Measure bar where you can pick from specific wood options to build out your dream guitar.
Here's Mark Agnesi giving a tour of the new showroom: