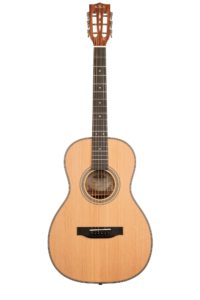 Aloha! I know that I usually talk about ukuleles and ukulele instruction here, but I wanted to talk about guitars today. Specifically about what makes a good beginner guitar.
I've been thinking about this for a while now and came up with a list of what would make the PERFECT beginner guitar. See if you agree with me:
1) It needs to be affordable. This is pretty obvious, I suppose, but I'm not above writing it so you know nothing is implied here. If a guitar is too expensive, a beginner won't buy it. They are hesitant and nervous about this whole venture they're thinking about and don't want to risk losing too much money if they end up not liking the guitar.
2) It needs to be acoustic. Now, I'll admit that there are two camps of players out there: those that think you need to start on an acoustic because it's harder and will build up your hand's muscles, eventually making playing an electric guitar easier. Then there's my camp that knows that this is easily one of the more ridiculous statements that could be thrown around and it's REALLY all about player satisfaction. How a player feels is key to them continuing to learn. If you give them something that's hard to play, sure, playing an electric will be easier down the road, but you also increase the probability of them quitting because it's hard and learning guitar is already hard enough!
No, the reason I think it should be acoustic has more to do with purity and the short signal path between player and instrument. If you started them on an electric, you have to introduce them to an amp. Then you have to deal with the knobs and switches on the guitar and on the amp. If they don't sound good, it's only natural for them to start twisting knobs and they begin to focus more on getting a good tone from knobs and switches than just playing where good tone will eventually develop with time and practice. And don't even get me started on pedals.
But it you play an acoustic – especially one without electronics – you don't have to worry about it. It's the player and instrument with nothing between them. And then there's the portability of it all. With an acoustic you can go anywhere and be inspired to play. It's liberating to be away from all the electronics and just make music and that purity should be encouraged with new players.
3) It needs to be easy to play. There are a few ways to make an acoustic easy to play: you can shorten the scale and make it a 12-fret. You can make the body smaller than normal and give it curves that are easy to negotiate. Dreadnoughts are unwieldy beasts of guitars that people have an odd attachment to, but they just don't make good beginner guitars. They're massive and tough to play when you're a beginner.
4) It needs to look good. It all goes like this: a pretty guitar is a guitar that's picked up more. And if you have it picked up, you might as well play it. And more playing means more progress and more progress means more playing because you're stoked about your progress. That's the musician's cycle. An ugly guitar is ignored and your playing becomes stagnant or begins to regress since you're not practicing.
5) It needs to sound good. Similar to looks, a guitar that sounds good (or at least has the potential to sound good) is a guitar that's played and with practice comes skill and a stronger desire to play more. But what sounds good? Surely that's objective, right?
Wrong.
It's actually pretty simple: the frequencies need to be balanced without too much emphasis on the low or high end and it needs to be able to played gently with volume and roughly without buzzing. Accomplishing this feat is hard, but the boxes to tick aren't hard to come up with.
6) It needs to grow with you. Think about any beginner guitar and you're sure to think of the things that make it LOOK like a beginner guitar. Ibanez's obvious "GIO" tag, Squier's Fender-ey, but not Fender-ey ENOUGH logo, or Epiphone's ridiculous headstock. The reason companies do things like this is obvious: they want you to be somewhat appalled by the guitars – or at least appalled enough that you won't consider them and, instead, cough up more money for their more legitimate (read: pricier) offerings. They don't want to cannibalize sales of more expensive guitars by offering quality beginner guitars that can handle a player that's developing their craft.
7) It needs to be strong enough to withstand the knocks and dings the new player will absolutely give it while being light enough to be resonant.
And that's basically it. You're looking for an affordable, beautiful, great-sounding, easy to play, strong-but-light guitar that will accommodate a developing player without a company's desire to push the next guitar at a higher cost to further their bottom line.
As I was thinking about this, it occurred to me that this isn't JUST what would make for a perfect beginner guitar, but a perfect guitar in general regardless of the player's skill level or status.
And then I got an email from Kala.
Kala is known as an ukulele maker. They've got ukes that span a wide range price-wise, but almost all of them have a surprising amount of quality when you look at the price tag. My family has four in the house and the most expensive one that I have clocked in at around $360 but it rivals $1,000+ Hawaiian-made ukuleles. They're just that good.
And now they have a guitar.
Well, they have a couple guitars, but one is a tenor guitar (four strings), two others are thin lines, and then there's this parlor acoustic I'm reviewing.
And that's it for guitars. That means that they can offer the best guitar that they possibly can and not worry about its quality eating into some prettier, more expensive guitar that's higher on their food chain. They're just focusing on giving you the best instrument they can.
I was intrigued and asked for a review unit which they sent my way and I've been living with it for a while now.
And overall I'm super impressed.
Let's start with looks since that's the first thing you're going to see. The guitar is attractive in a way that has enough nice details to appeal to any level of musician, but not so much that it could ever be considered gaudy. The headstock logo and design are all genuinely inlaid (which even guitars that cost upwards of $2k sometimes don't have) and the dot inlays play against these designs well and balance the aesthetics out.
It also has a split headstock which adds an airiness to the design and is just cooler. They're harder to manufacture which is why you don't generally see them on guitars that are affordable.
The small body of the parlor guitar means its easy to tuck into your arm and play. There's no limit to what you can play, though, with the guitar being just as willing to be hit (hard) with punk riffs as it was gently plucked with finger style jazz licks. It has a bottom end that I would honestly expect from a guitar that features a 12-fret construction, but the balanced highs were unexpected. I expected this to be a warm guitar that could be perfect for jazz, but was pleasantly shocked to find a guitar that was good for just about anything because it was so perfectly balanced.
The neck is comfortable and easy to move around on, though I would prefer to set it up a bit more to my own preferences with lighter strings and lower action, but I'll be the first to admit that this would compromise the guitar's all-around capabilities and is a direct reflection of my own playing preferences and a result of a wrist injury. It's not that I can't play the guitar, but I know I can have a better time playing it if these mods were done.
The guitar is made of laminated mahogany back and sides, but a solid cedar top (cedar is also known for its warmth) and the top lends to that balance I mentioned earlier.
The guitar as a whole would fit in just as well at an open mic as it would on your couch alone or in a studio. It's an intimate instrument with a surprising amount of volume on tap. It plays well with other instruments, but sounds full and balanced enough to be played alone without making you sound biased to one end of the sonic range.
In short, it's a solid guitar that any guitarist should want.
And it doesn't scream "beginner," mostly because it ISN'T a beginner guitar. Kala didn't design a beginner guitar, they just designed a great guitar.
So why mention beginners at all?
It's the price. If you built a Taylor with these specs, you'd pay dearly for it. But this guitar? It only costs $279.99.
Price-wise, it does rank higher than your hundred-dollar, bargain-bin junk acoustics found on the shelves of Target or Walmart, but less than $300 for all this guitar is nothing short of a steal. Add to the price its ability to do just about anything and you're talking the perfect beginner guitar, but also the perfect backup guitar, studio guitar, couch guitar, or songwriting tool. At this price, it's not a guitar that you'll worry about being stolen or damaged, but at the same time it isn't disposable. Joe Pass used to tour with laminated arch tops and he'd chuck them into the trunks of cars. One time a buddy of mine picked up Pass for a gig and Pass threw the guitar in, unconcerned. My friend asked him about it and he said all the solid arch tops were at home, but the joy of laminated ones was that he could relax with them.
That's this guitar. Yes, it sounds good, but the affordable price tag means you can RELAX with it.
And when you can relax with your instrument, you play better. You sound better. And you want to play more.
Am I in love with this guitar? Man, I'm SMITTEN with this guitar! I think it offers something truly unique to a section of the market that had previously been unable to even dream about and it does so at an affordable price WHILE sounding and playing great. What's NOT to love about it?
I recommend everyone check it out regardless of playing skill, experience, what you already have or don't have in your collection, or how much your budget is. This is a rare guitar that can please players across so many ranges be it genres, skills, needs, or budgets and you'd be doing yourself a disservice by dismissing it out of turn.
It's just that good.