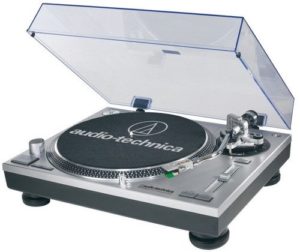 This is a roundup of a few things I've been enjoying this month:
1. Pete Thorn II – The new album from Pete Thorn. In addition to being a popular YouTube demo guy, Thorn is a world-traveling side-man, having played with everyone from Melissa Etheridge to Chris Cornell to Don Henley. This is his second collection of solo material, and it's an enjoyable listen for guitar fans.
2. Andrew York Home and Equations of Beauty – Two really beautiful collections of songs from one of my favorite guitar composers around. If you enjoy solo acoustic guitar music, I recommend checking these out.
3. Audio-Technica AT-LP120-USB Turntable – I still find it amazing that for $9.99/mo you can access almost the entire history of recorded music. From our phones. However, sometimes it's nice to listen to a vinyl record. The tactile feel of the record and liner notes is something that digital music can't really provide. Plus, when you put a vinyl record on the turntable, you're more likely to listen to the whole record. The AT-LP120 isn't the best turntable out there and won't win you any coolness points, but it's a good turntable at a reasonable price.
4. Martin 00-15M – I've tried a bunch of different acoustic guitars, and the Martin 00-15M is the one that sticks around. I don't play acoustic very often, but I think the size, build, and price of the 00-15M are just about perfect. It doesn't have the fullness of a dreadnought or the brightness of a spruce-topped guitar, but I love the punchy tones that this guitar can generate.
5. Earthquaker Devices Hoof Fuzz – I've gone through a lot of fuzz pedals over the years. I've recently rediscovered the Hoof Fuzz, and it's my favorite take on the Russian Muff that I've tried. It's hard to go wrong with any Earthquaker Devices stuff.