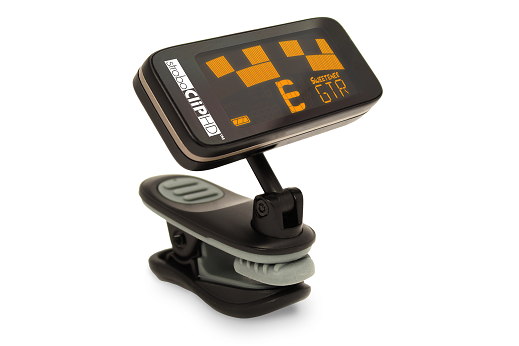 Peterson has announced an upgraded version of their StroboClip tuner, which they're calling the StroboClip HD:
This summer, Peterson Strobe Tuners will roll out its latest innovation, the StroboClip HD – a powerful, upgraded version of its revolutionary StroboClip clip-on tuner, released in 2009. The StroboClip HD features an ultra high-definition, real-time tuning display that sports nearly twice the pixel resolution of its predecessor. The SC-HD features the same .01 cent (1/1000th of a semitone or fret) tuning accuracy and comes complete with alternate temperaments for a vast array of string, brass, and wind instruments. Over 50 exclusive, preset Sweetened Tunings are onboard to help correct inherent tuning issues exhibited by many instruments. Soft, rubber lined jaws protect an instrument's finish while offering a firm grip for maximum signal tracking. The wide viewing angle of the display is enhanced by the SC-HD's three points of rotation that permits comfortable monitoring of your instrument's tuning from a multitude of angles. Greatly increased battery life using a standard CR2032 battery makes sure you are always ready to enjoy pro-level grade tuning anywhere. A "stealthy" matte black finish blends in with many instruments finishes and doesn't detract from your instruments beauty. The StroboClip HD will also support Peterson's exclusive Peterson Connect online utility where users can connect via USB to update the latest firmware or create a custom configuration if desired.
At a street price of about $60 it's not a cheap headstock tuner, but it is comparable in price to the TC Electronic Polytune Clip. Additionally, Peterson has a great reputation and this looks like a nice upgrade.