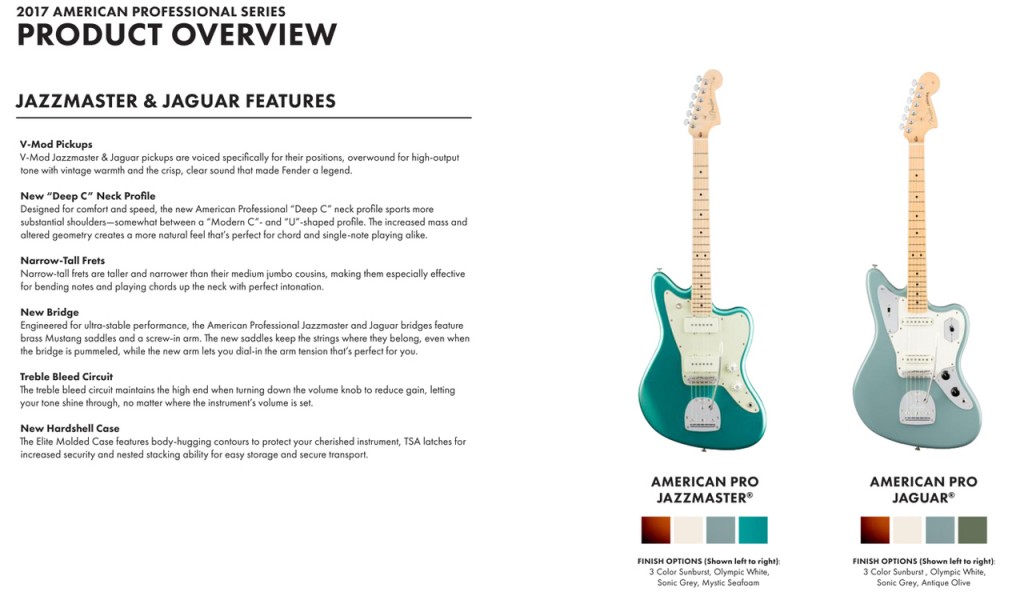 About a month or so ago, Fender discontinued their American Standard line of guitars. Details of the replacement line has finally come out, and they are now calling it the American Professional series. This new series encompasses their core American-made lineup of guitars and basses.
One new addition is something I've wanted for a long time: an American-made non-vintage Jazzmaster! I've owned one of the American Vintage Reissue Jazzmasters, but I wasn't a big fan of the 7.25″ radius so I sold it. Now, Fender has made a Jazzmaster that really interests me.
Vintage enthusiasts should probably look past this model, though, as it does have more changes than just the fretboard radius. Most notably, they have removed the rhythm circuit from the guitar and moved the pickup selector above the strings, similar to a Les Paul. I happen to like the pickup selector there, but it seems that vintage enthusiasts are not in favor of the change.
Another departure from vintage is the availability of a maple fretboard, something not typically associated with a Jazzmaster. I'm not a big fan of maple fingerboards, so I'll stick with rosewood, but it's nice to have the option.
The neck profile has also been tweaked into what they are calling a "Deep C"-shaped neck with tall, but narrow frets. I'm a little concerned about the neck profile as I liked the modern Fender profile. Early reports are that it's only slightly larger than the previous American Standard series, so I suspect it will feel somewhat similar but it's definitely something I need to check out in person.
The pickups are also newly designed and are called V-Mod Jazzmaster pickups. They are described as having hot, vintage-inspired tone and come with a treble-bleed circuit to retain high-end clarity when lowering the volume.
Fender has improved the tremolo and bridge, which has long been a complaint of the previous design. The new bridge uses brass Mustang saddles to prevent the string slippage that sometimes occurred on the traditional Jazzmaster bridge. The tremolo now has a screw-in arm, so you can set it up so the bar doesn't flop around like it does on vintage-inspired models.
Based on early details, the Jazzmaster will come in four colors: three-tone sunburst, Olympic white, sonic grey, and mystic seafoam. The sonic grey and mystic seafoam are new colors for this line and will come with a maple fretboard. The sunburst and white models will come with a rosewood fretboard.
The rumors are that the American Professional line, including the Jazzmaster, will be available at retailers as early as this week. Some retailers have already received models in store, so you if you're interested, check with your local Fender dealer.
Note: The image above shows the new Jazzmaster alongside the new Jaguar, which is also being introduced with the American Professional series. Click the image for larger size.