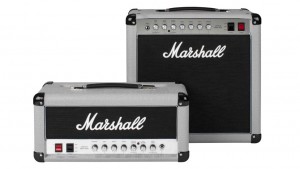 Rejoice! Marshall has taken the much-loved blueprint of the Silver Jubilee amps and has shrunk it down to a 20 watt package (switchable down to 5 watts).
Many lower watt British-style amps compromise the tone by using EL84 tubes, which I'm not a fan of. The Mini Jubilee, on the other hand and if the rumors are true, uses EL34 tubes, which are more commonly found on higher output amps.
Additionally, the Mini Jubilee uses the same control layout as the larger Silver Jubilee amps. The controls are presence, bass, middle, treble, output master, lead master, and input gain.
The Mini Jubilee is available as a head or a 1×12 combo.