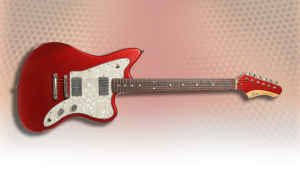 During last summer's NAMM show, Fano Guitars announced their new line of Standard series guitars consisting of sub-$2000 versions of some of their most popular guitars.  Even though the guitars were announced last summer, there hasn't been any news about them since then until now, perhaps due to the numerous changes going on at Premier Builders Guild (PBG).
In advance of this year's Winter NAMM show, Fano has added the guitars to their website, with a presumed official launch and dealer release forthcoming. Upon initial launch, the Standard series will include the JM6 and SP6 models.
With Gene Baker leaving PBG, it was unclear who would actually be building these. That question has been answered as it looks like Grover Jackson's company GJ2 will be producing the guitars for Fano.
The Fano guitars I've played in the past have all been very good. Fano claims that the cost savings are due to standardizing the options rather than lowering quality, and I'm keen to see if this is true. While I'm not a huge fan of relic'd guitars, Fano's necks have been some of the most comfortable I've played.
If Fano and GJ2 can maintain the quality at a lower price point, I think they will have a winner on their hands.