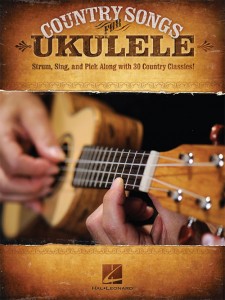 Ed. note: This is the fourth in a series of posts by Guitar Lifestyle contributor Russ about the ukulele and its growing popularity among musicians and educators. Read the other posts in this series here. 
Aloha! Today we'll be reviewing the book Country Songs for Ukulele, published by Hal Leonard.
One of the things that makes the uke such a great instrument is that it doesn't take TOO much instruction to get a basic grasp on chord shapes and then the actual playing is pretty easy as well (meaning that you have softer strings, less tension, and less physical real estate on the fretboard which makes for a significantly less painful experience than on a guitar). It is an instrument that showcases virtuosity, sure, but the really cool thing about it is the low cost of admission both in a financial sense and also an educational sense. Learn how a chord box is written, some basic chord names, and you're set to sit back, strum and sing along with yourself.
But even if the uke is a great companion instrument that is easy enough to learn the basics of, does it sound good playing music that isn't Hawaiian?
Well… Sure it does. Why wouldn't it? Just because most ukulele sheet music is written in re-entrant tuning doesn't mean that happy slant of string tuning only works for island music – it works for all genres. Country is just today's example.
With Country Songs for Ukulele, Hal Leonard packed 30 country songs into 88 pages and there is no filler. There's no introduction, letters, explanations, or details about the authors – it is straight to the music written out in sheet music. There is no tab, but you don't need it since chord boxes are included with the changes and this is more of a strum along while you sing kind of book rather than a solo book.
Now let's talk country: only a fool would think it's safe to say there is one type of country, especially if they think that one type is today's soft rock garnished in cowboy hats and dirt roads. But maybe there's room for that…sub genre. The book covers classics like "I Walk the Line" to what could be argued was the introduction to country pop on a GRAND scale with "Achy Breaky Heart (Don't Tell My Heart)".
Right away I'm sure some of you make a sound with your throat, but this could actually be a cool song to learn for parties alone. If there was ever a guilty pleasure country song, this is it and I bet it would end in a massive sing-along.
Other classics include Roy Orbison's "Blue Bayou", "The Gambler", and "Hey Good Lookin'".
So country purists and even a few rockabilly cats will get something out of this.
The best song by far, though, is "Tennessee Waltz". "Tennessee Waltz" is often forgotten, but what a fantastic song! It has everything you need: a beautiful melody, a tragic tale of woe, and that's all. That's all you need. Whole careers have been built on those two things. But it isn't the flashiest song in the world and I think that is why it's not nearly as famous as, say "Mommas Don't Let Your Babies Grow Up To Be Cowboys" (which is also in the book).
The whole song list is as follows:
Achy Breaky Heart (Don't Tell My Heart)
Always On My Mind
Blue Bayou
Chattanoogie Shoe Shine Boy
Could I Have This Dance
Crazy
Crying In The Chapel
For The Good Times
Funny How Time Slips Away
The Gambler
Green Green Grass of Home
Hey Good Lookin'
(Hey, Won't You Play) Another Somebody Done Somebody Wrong Song
I Can't Help It (If I'm Still In Love With You)
I Walk The Line
It Wasn't God Who Made Honky Tonk Angels
Jambalaya (On The Bayou)
King Of The Road
Make The World Go Away
Mamas Don't Let Your Babies Grow Up To Be Cowboys
Oh, Lonesome Me
Release Me
Rocky Top
Smoky Mountain Rain
Tennessee Waltz
Walkin' After Midnight
Welcome To My World
You Are My Sunshine
Your Cheatin' Heart
The book retails for $12.99 and can be found at your local music store or online at Hal Leonard's site.
Next week we'll discuss my method for breaking up Alfred's Kid's Ukulele Course 1 into digestible chunks for my kids in homeschool.
Until next time!
Mahalo,
Russ
Twitter: @5thfret1