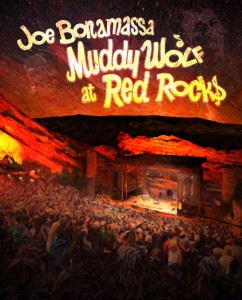 Joe Bonamassa recently embarked on a short tour he called "Muddy Wolf" that culminated in a performance in front of 9,000 people at Colorado's Red Rocks amphitheater. As the name implies, the tour paid tribute to Muddy Waters and Howlin' Wolf.
The Red Rocks performance was filmed as is being released as an album and DVD on March 24:
The exclusive concert experience tributing blues legends Muddy Waters and Howlin' Wolf was filmed at Red Rocks Amphitheater over Labor Day weekend in 2014. Carved into the bedrock of Colorado's majestic Rocky Mountains, the famed amphitheater sets the stage for Bonamassa's fiery delivery of over 2.5 hours of bluesy guita wailing and horn-filled tunes honoring the two Blues greats.
The DVD features the following track list and bonuses:
Mississippi Heartbeat (Intro)
Muddy Waters
Tiger In Your Tank
I Can't Be Satisfied
You Shook Me
Stuff You Gotta Watch
Double Trouble
Real Love
My Home Is On The Delta
All Aboard
Howlin Wolf
How Many More Years
Shake For Me
Hidden Charms
Band Introductions
Spoonful
Killing Floor
Evil (Is Going On)
All Night Boogie (All Night Long)
Hey Baby (New Rising Sun)
Oh Beautiful!
Love Ain't A Love Song
Sloe Gin
Ballad of John Henry
Bonus Features:
1. Joe and Kevin's Excellent Adventure… To The Crossroads
2. Behind the Rocks – An Exclusive View Behind the Scenes
3. The Originals – Historic Footage from Muddy Waters and Howlin Wolf
4. Rockagram Gallery
Here is the EPK: