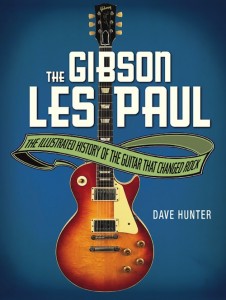 Voyageur Press has recently released a new book about the Les Paul by Dave Hunter, titled The Gibson Les Paul: The Illustrated History of the Guitar that Changed Rock:
Starting with the Les Paul's history and origins, the book traces the history and evolution of the guitar, from its 1952 introduction to the present day. In addition to the Standards and Customs that guitarists admire so much, author Hunter provides ample coverage of variations like Juniors, Specials, and SGs. The full history is presented in depth—with rare photos of guitars, gear and players—getting into the design and manufacturing from the early years to today. The evolution of the neck, pickups, and body are also explored, for the various models.

Included are profiles and great photos of players who famously played Les Pauls, in addition to the greats listed above. These include Joe Perry, Peter Frampton, Paul Kossoff, Keith Richards, Hubert Sumlin, Mike Bloomfield, and many others. The profiles contain details on the player's favorite Les Pauls, recorded output and more.

There's more than 400 images including studio shots of the guitars, rare blueprints and sketches, candid and performance photography of the musicians and a large collection of relevant memorabilia.
I received this book a few days ago, and I've been thumbing through it ever since. There are tons of great photographs, and a fairly detailed history of the Les Paul, from the introduction and collaboration between Ted McCarty and Les Paul to the changes made to the instrument throughout the years. The artist profiles, while necessarily brief, include some great photographs and details about the artist's use of the Les Paul.
If you're interested at all in the Les Paul or its history, I think you'll enjoy this book. The history portions are interwoven throughout the book among the artist profiles, so you can consume it in bite-sized chunks if you want or, like me, you might get so engrossed in it that you just keep reading.
You can purchase the book from Amazon or from your favorite bookseller.