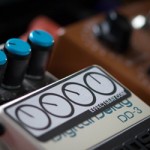 I'm a fan of clever solutions to problems, and I think the Pedal Label System is just such a solution. No doubt you've either added a strip of masking tape to your pedals or have seen someone else do so in order to "remember" the settings that you like for your pedals. However, using masking tape can sometimes lead to residue, or goop, left on the pedals, which can be annoying. Pedal Labels aim to solve this problem by providing easy stick labels that you can use to mark the settings for your pedals.
Above you can see the four knob Boss pedal version, but there are also versions for 1, 2, and 3 knob pedals. They've also included some labels for marking settings for toggle switches that come on some pedals.
A mini pack (2 sheets) of labels costs $2.95, while a full pack (6 sheets) costs $7.95. You can get more information on the Pedal Labels website.