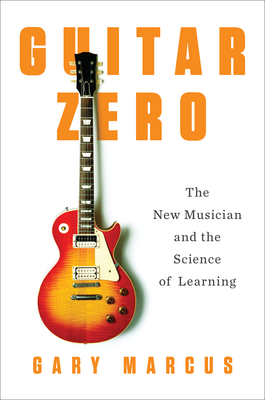 Gary Marcus, a professor of psychology and language at NYU, decided in his late 30s to learn how to play the guitar after years of believing he couldn't do it. He chronicles his journey in his book, Guitar Zero: The New Musician and the Science of Learning.
In the book, Marcus examines how we learn in general as well as how we learn music specifically. He attempts to determine whether an adult can learn music as adeptly as a child. He also attempts to answer the questions of whether talent matters more than practice and whether you can become a great musician by practicing even if you have no talent. Marcus concludes that both are talent and practice are important. One without the other would likely not lead to greatness.
Throughout the book, Marcus weaves a narrative of his journey in between a scientific analysis of learning. He dives deep into the cognitive science involved in our learning processes in an attempt to determine what parts of the brain we use when learning music. I found it interesting that the grey matter in our brain changes as a result of learning new things.
Additionally, he talks to a number of professional musicians to get their insight on the process of learning guitar. For example, he gets to meet and talk with guitarist Tobias Hurwitz at his Day-Jams summer camp, which is a kind of school of rock. Marcus attends in order to write about his experience at the camp, and along the way he learns enough bass to join a band with a group of students. He also spends time with guitarists Pat Metheny and Tom Morello to explore more about how they learned.
All in all, I found Guitar Zero to be an interesting and enjoyable read. At times, it got a little too academic and a little dry, but Marcus's personal journey and explorations helped offset a bit of the dryness. If you've ever been curious about the process of learning music, I think you would enjoy Guitar Zero.