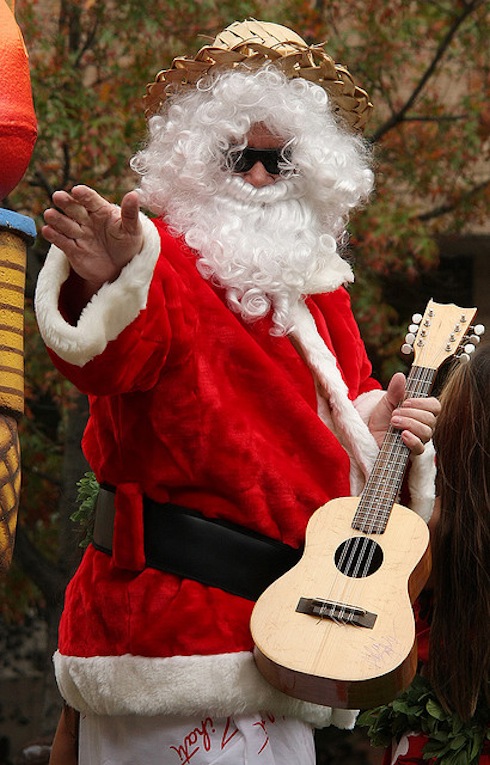 Editor's note: This is a guest post written by my friend and fellow guitar blogger Jim. You can visit Jim's blog to read more posts like this one. Photo credit: jmtimages (Creative Commons)
You've been a good little guitarist all year long; it's time for Santa to reward you. Not sure what to ask for? All of these gifts are under $50.00, so even if Santa does not deliver, keep this list in mind if some Christmas money comes your way.
A Spider Capo is an incredibly useful device to spice up your guitar playing. This capo is different from all others, as you can take the capo off of each individual string.
Guitar strings are always a fantastic gift. Can you ever have too many guitar strings? I don't think so. You will always need more sets of guitar strings.
Guitar picks are the easiest way to spice up your tone. I recommend trying some new picks; you might be pleasantly surprised with the results. I'm a big fan of the new Dunlop Tortex Jazz III picks. (The sharp point seems to increase accuracy and speed.) For $3-4 bucks, why not give them a shot?
A slide or assortment of slides is a great gift idea as well.
The Vox Amplug is a cool little mini amplifier that comes in 7 different flavors from acoustic guitar to Vox AC30 to a special Joe Satriani headphone amp.
A tuner is always a handy thing to have. Whether it be a stomp box tuner or a headstock tuner, you can't go wrong with having another tuner. The audience will thank you for it too.
A metronome is another great idea. I found this metronome that is also a tuner. Talk about the best of both worlds.
A cool effects pedal like a Digitech Bad Monkey or a Boss Super Overdrive could be a great choice. I'll admit it; there is nothing like the instant gratification of stomping on a new effects pedal.
I hope you get some great ideas from this list and you are able to share some of your music with others this holiday season. Have a Merry Rockin' Christmas!