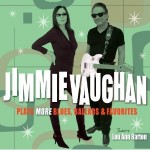 On July 26, 2011, just over a year since his last release, Jimmie Vaughan is set to release a second album of covers titled Plays More Blues, Ballads & Favorites. Like his previous release, Plays Blues, Ballads & Favorites, this album features cover songs that inspired Vaughan, including tracks by Ray Charles, Hank Williams Sr., Lloyd Price, Jimmy Reed, and more. Also like the previous release, Lou Ann Barton provides guest vocals on several tracks.
In a recent interview with Guitar World, Vaughan described his motivation for making a second album of covers:
What happened was, when I made the last one, I just never stopped. I thought, "Well, this is so much fun." And these songs are really great to play on the gig. People love them and they swing, and it's just great music, so I just kept going, finding more and more songs.
The track listing for the album is:
1. I Ain't Never
2. No Use Knocking – Featuring Lou Ann Barton
3. Teardrop Blues
4. I Hang My Head And Cry
5. It's Been A Long Time
6. Breaking Up Is Hard To Do – Featuring Lou Ann Barton
7. What Makes You So Tough
8. Greenbacks
9. I'm In The Mood For You – Featuring Lou Ann Barton
10. I Ain't Gonna Do It No More
11. Cried Like A Baby
12. Oh Oh Oh
13. I'm A Love You
14. The Rains Came