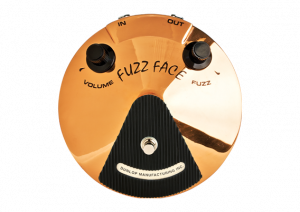 The folks at Dunlop have now released information about the Joe Bonamassa Signature Fuzz Face. I first heard about this pedal a few months ago on Joe's forums and have anxiously awaited further information about it. The most visible feature of the pedal is the copper casing that will patina over time like a penny.
Here's some more information that Dunlop has provided:
Tested and developed over several world tours, the JBF3 Joe Bonamassa Signature Fuzz Face is voiced specifically for Joe's humbucker-driven tone, adding sustain and thickness for a rich, creamy fuzz. This pedal's hand-wired circuitry is built around matched NOS Russian military germanium transistors for their characteristic warmth and growl. The JBF3 also features classic grey Cliff jacks and Omeg pots all housed in a polished copper finish that will patina over time. "I wanted this Fuzz Face to be a pedal that would instantly transform your tone," Joe says. "It drives you to a different place as a player. Kick on the inspiration box!" Production of the Joe Bonamassa Signature Fuzz Face is limited to a single batch each year.
When I interviewed Joe last November, I asked him about this pedal and he mentioned that it was based on a pedal made by Jorge Tripps for Eric Johnson. I'm looking forward to hearing some clips of the pedal.