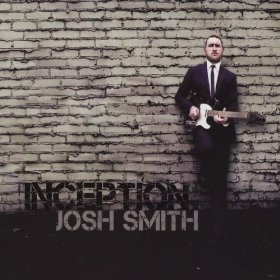 I first heard of guitarist Josh Smith through the Gear Page forums, as he is a well-respected member there. I later found out that he is the lead guitarist for Taylor Hicks's touring band. In addition to touring with Taylor Hicks, Smith has released several solo guitar instrumental albums. His latest solo album is called Inception and was released last December. What I really like about this album is that, although he is an excellent guitarist, he doesn't use the album to showcase all he can do as a guitarist; he lets his guitar playing serve the songs, which sound both modern and classic at the same time.
Unlike many instrumental albums, Inception is full of tasteful and melodic blues-based playing. For example, B.B. King would be right at home singing over Smith's slow blues track "Drown In My Own Tears." Josh's guitar really burns in the slow blues track "Penance."
Although Smith's playing has a bluesy foundation, he's also quite adept at jazz and country guitar. For example, the song "Propulsion" is chock full of country-infused licks. The song "Bemsha Swing" is jazzy track that highlights Smith's melodic jazz playing. "Triple J Hoedown" manages to meld all of these styles into one song without it sounding hokey.
In addition to the blues, jazz, and country playing, there are a number of tracks that don't fall within any of those categories. These tracks tend to highlight Smith's rock playing. For example, the opening track "Inception" is a medium-tempo melodic rock song. Other rock tracks on the album include "Fulfillment," "Looking Ahead," and "Hairflip." The tracks "Just Within Reach" and "Resolution" are excellent rock tracks that highlight Smith's slide guitar playing. And, Smith's tracks "Niki" and "Canyon" highlight his tasteful ballad playing.
As a gear geek, I like to know what other guitarists play on their recordings. Smith has obliged us geeks by indicating in the liner notes what gear he played on each track on the album. Smith is endorsed by Chapin guitars, and Mad Professor, Fargen, and Bludotone amplifiers, so, not surprisingly, many tracks feature Chapin guitars and one or more amps by those amp-makers. However, he also used a Les Paul on several tracks. Regardless of the guitar/amp combination used, Smith's tone is very good throughout the album, although my favorite tone on the album might be on the song "Fulfillment," on which he used a '69 Les Paul Custom into a Bludotone Bludodrive amp.
While listening to this album, I kept thinking about how melodic and tasteful Josh's playing is, regardless of the style of the song he's playing on. If you enjoy great guitar playing, I think you'll enjoy Inception.
The track listing for the album is as follows:
1. Inception
2. Just Within Reach
3. Looking Ahead
4. Propulsion
5. Drown In My Own Tears
6. Penance
7. Triple J Hoedown
8. Fulfillment
9. Canyon
10. Hairflip
11. Bemsha Swing
12. Niki
13. Resolution