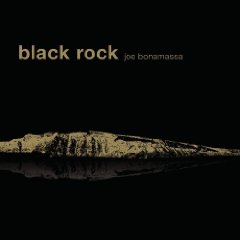 Joe Bonamassa and Kevin Shirley have a good thing going. Each year they get together for a few weeks and record a new album. I don't know how they do it, but they've got the process down to a science. Which is not to say that the records sound rushed. On the contrary, Shirley seems to be able to push Bonamasssa a little further with each new release, and Bonamassa's signature sound gets more refined.
Recorded in picturesque Santorini, Greece, Black Rock* is the next chapter of the Shirley/Bonamassa collaboration. At the start of the recording sessions, Shirley had Joe record using a Telecaster directly into small amps to force Bonamassa out of his Les Paul/Marshall comfort zone. Additionally, Greek folk musicians were brought in to play with Joe. You can read more about the recording process here.
Like Bonamassa's previous solo albums, Black Rock contains a mixture of original tunes and covers. Joe wrote 5 of the 13 tracks on the album. As I've mentioned before, Joe has a way of taking songs written by other people and making them his own. On Black Rock, Joe covers songs by Jeff Beck, John Hiatt, Otis Rush, Willie Nelson, Leonard Cohen, Blind Boy Fuller, and James Clark. Joe is also joined by special guest B.B. King on the  Willie Nelson tune "Night Life."
The album starts off with a couple of heavier blues tunes, "Steal Your Heart Away" followed by "I Know a Place." These songs set a nice tone for the album. Vocally, Joe seems to be stretching himself further with each album. Musically, Joe's in excellent form. His recorded guitar tones are some of my favorite, and Black Rock continues that tradition.
I really enjoy Joe's slide playing, but the slide hasn't been prominently featured on one of his albums for several years. Fortunately, the third song on the album, "When the Fire Hits the Sea", changes that by featuring a very nice slide solo.
Next is "Quarryman's Lament", which is presumably a response to "Story of a Quarryman" from Joe's last album The Ballad of John Henry. "Quarryman's Lament" is a slow, dirge-like number that features some excellent acoustic playing by Joe.
"Spanish Boots" is a Jeff Beck tune, and Bonamassa's version is quite a bit different than Beck's version. In my opinion, Beck's version is more laid back than Bonamassa's version, which is more upfront and in your face. Both versions are excellent, but I think I like Bonamassa's version a little better.
I was a little surprised to see Joe cover a Leonard Cohen tune, but his version of "Bird on a Wire" is excellent. I've never heard the original, so I can't compare them, but I really like Joe's version. It's probably the slowest song on the album and is a nice bridge between "Spanish Boots" and the bluesier "Three Times a Fool."
"Three Times a Fool" is one of the more traditional blues songs on the album. To me, this song evokes the blues of the 50s and 60s. Joe seems to be using a 335-style guitar on this track, which contributes to the more classic sound compared to his more rock-oriented tracks. "Night Life" also falls into the category of more traditional blues, even though it's a cover of a Willie Nelson tune. Of course, B.B. King helps contribute to the more traditional sound. I like their take on the tune. Again, I've never heard the original, so I can't compare this version to the original.
After "Night Life" is "Wandering Earth", which is a slow, but heavy blues that has some of the best guitar tones on the album. This is an original Bonamassa tune and is one of my favorites on the album.
"Look Over Yonders Wall" is a mid-tempo blues number that is a cover of a James Clark tune. Joe plays a couple of fiery solos in this tune.
"Athens to Athens" is a slow, Greek-infused song that features the Greek musicians more prominently than most of the other songs. I was curious to see how the Greek musicians would fit into Joe's style of music, and I think Shirley did a good job in where he placed them on the album. A nice touch resulting in an interesting addition to the album.
"Blue and Evil" is the first publicly available song from Black Rock. It starts off with an acoustic riff that morphs into a heavy blues riff. This tune features great guitar tones and another fiery guitar solo from Joe.
The final track on the album is an acoustic blues cover of a Blind Boy Fuller song titled "Baby You Gotta Change Your Mind." Compared to the rest of the album, this track is a bit of a departure, and I can see why it's included last. However, I really like Joe's take on the song, and it's a fun way to end the album. It's a more intimate song prominently featuring Joe's vocals and guitar playing with little other instrumentation.
With Black Rock, Joe Bonamassa and Kevin Shirley have got another great album to add to Bonamassa's already impressive discography. Very few other modern artists are playing blues/rock music like this, and Bonamassa remains at the top of his game with this album. If you're already a fan, you'll love this album. If you're new to Bonamassa's music, Black Rock provides a nice introduction to the variety in his music, not to mention the great collection of songs.
The full track listing of Black Rock is:
1. Steal Your Heart Away
2. I Know a Place
3. When the Fire Hits the Sea
4. Quarryman's Lament
5. Spanish Boots
6. Bird on a Wire
7. Three Times a Fool
8. Night Life
9. Wandering Earth
10. Look Over Yonders Wall
11. Athens to Athens
12. Blue and Evil
13. Baby You Gotta Change Your Mind
Black Rock will be available in the U.S. on March 23, 2010.
* The Amazon.com links within this review are affiliate links. I receive a small commission if you purchase the album through this link, which helps me pay to host this site. That being said, I really like this album and wouldn't recommend it otherwise.