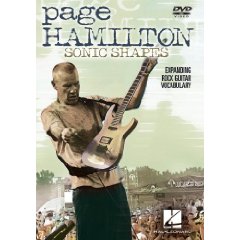 Last year, Page Hamilton released a guitar instructional DVD titled Sonic Shapes. I've mentioned before that I was a big fan of Hamilton's and his band Helmet when I first started playing guitar in the 90s. He was one of the first musicians I knew of who tuned to drop-D.
On Sonic Shapes, Hamilton illustrates some of the concepts and approaches he takes when writing music for Helmet. Hamilton is a long-time student of jazz and avant-garde guitar, and it's interesting to hear him talk about how he builds the chords for Helmet music, which seem deceptively simple at first. However, the chords and scales he uses are fairly atypical for the type of music he plays. Throughout the instructional portion of the DVD, Page plays an ESP guitar without distortion so you can really get a feel for how the chords sound without the effects that he normally uses.
In addition to demonstrating how he goes about composing some of Helmet's music, the DVD features a section of Hamilton's tips on practicing. He mentions a routine called "Super Chops," which was developed by Howard Roberts, that he has adapted for his own use. Hamilton suggests always having material on hand so that you can utilize your time wisely. For example, when he's on the road, he always has a folder of material that he's working on. He also suggests keeping a practice log so that you can keep track of your progress and of what you want to work on.
As a bonus, the DVD features some live footage of Helmet, where you can see some of the concepts Hamilton discusses earlier in the DVD in action.