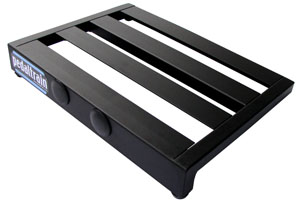 One of the most popular posts on this site is "Build Your Own Pedalboard", where I link to Rob Hampton's detailed description of building his pedalboard. It seems that a lot of people are interested in building their own pedalboard. However, not everyone has the time or tools to build their own pedalboard. Enter Pedaltrain.
Pedaltrain makes a series of professional-quality pedalboards used by many guitarists. Pedaltrain's pedalboards come in various sizes. The largest is the Pedaltrain Pro; the Pedaltrain 1 and 2 are slightly smaller than the Pro, but still hold about a dozen pedals; the Pedaltrain Jr is several inches smaller than the 1 and the 2; and the Pedaltrain Mini is the smallest unit that Pedaltrain sells.
I'd heard about Pedaltrain through the message boards, where many people were praising them, but I'd never used them myself until recently. I had a chance to meet the president of Pedaltrain at last summer's NAMM show, and he told me more about his company's products. After looking at the displays, I came away very impressed with the quality that goes into their pedalboards.
I have the Pedaltrain Jr, which is a good size for someone who has about six pedals or so. The Pedaltrain Jr measures in at 17″ x 12.5″ x 2.5″. My initial impression at the NAMM booth have been confirmed by being able to spend some time with the pedalboard. It is built rock-solid and seems like it could hold up to extensive gigging, although I have not gigged it yet.
A few of the nice things about Pedaltrain's pedalboards are the fact that they are angled and open, making access to the pedals on the top row easy so that you don't accidentally step on a pedal on the bottom row instead of the intended pedal. Additionally, this design makes cable management fairly easy and leaves room on the bottom of the pedalboard for a power strip or other power supply for your pedals. For example, many people use the Voodoo Lab Pedal Power 2 to provide power for their pedals, and there is room underneath the pedalboard for this power supply.
Another nice touch by Pedaltrain is the inclusion of all the velcro you'll need to start adding pedals to the pedalboard. The velcro seems very durable, and instructions are included to help you get started.
You can get Pedaltrain pedalboards with a soft case or a hardshell flight case. My pedalboard came with the hardshell case, and it seems like it could really take a beating. Because the cases were so well received by musicians, the president of Pedaltrain created a sister company called ProStageGear, which makes gig bags and flight cases for instruments and amplifiers. I had a chance to look at these on the floor at NAMM, and they look to be of the same quality as the pedalboard cases, but I haven't used any of the guitar cases myself.
If you're looking for a pedalboard and don't want to build your own, I highly recommend taking a look at Pedaltrain's pedalboards. If you want to see how your pedals will work on one of Pedaltrain's pedalboards, you can design your pedalboard at PedalboardPlanner.com. You can select among each of Pedaltrain's products, and there is a large list of pedals that you can add to the board to see how they'll fit.