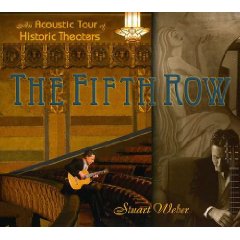 The thing that I enjoy so much about Twitter is that you get to connect with people you might not have connected with otherwise. One artist that I've met through Twitter is Stuart Weber, a classical guitarist and composer based out of Montana. Weber has recently released a new CD titled The Fifth Row, which includes a number of original compositions as well as performances of Weber's arrangement of compositions by composers such as George Philipp Telemann, Antonin Dvorak, Bela Bartok, Randy Newman, and Samuel Ward.
Weber's performances of the pieces are tasteful and well executed. His technique is flawless, but not at the expense of the music. To me, one of the hallmarks of a great classical guitarist is whether you can listen to the guitarist perform and not think about the technique but instead focus on the music. Weber certainly falls into this category. Listening to The Fifth Row, I find myself engrossed in the music. I'm really impressed with Weber's ability to bring out the emotion of the compositions.
In addition to the performances, Weber celebrates 11 historic theaters in the Western United States by recording a different track in each theater. Some of the theaters Weber celebrates are the Ellen Theater in Bozeman, Montana; the Sheridan Opera House in Telluride, Colorado; and the Ellen Eccles Theater in Logan, Utah.
The Fifth Row highlights Stuart Weber's excellent performing, arranging, and composing skills. If you are a fan of classical guitar music, I think you'll really enjoy The Fifth Row.
Also, see Dr. Matthew Warnock's review of The Fifth Row for Modern Guitars.
Below is a video of Weber playing one of my favorite pieces from the CD, Telemann's "Bouree alla Polacca":