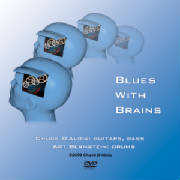 Guitarist Chuck D'Aloia has recently released an instructional lesson set titled Blues with Brains. Unlike other blues lessons that try to teach you basic pentatonic blues licks, Blues with Brains teaches you how to add a different element to your blues playing.
While you do not need to know music theory in order to benefit from the lessons D'Aloia provides, I think you'd get the most benefit from the lessons if you have a basic knowledge of blues progessions (I-IV-V) and a basic knowledge of the pentatonic scales. This is the foundation that D'Aloia starts with, and he then shows you how to take it in a different, slightly jazzier direction.
He starts off with a basic blues progression in A minor and discusses how the notes work over the chords. Some notes work better than others, and D'Aloia discusses which ones work and which ones don't. After going over examples slowly, he then plays over a jam track to illustrate his ideas. Not only is it helpful to see Chuck play the examples, it's just fun to hear Chuck play.
After explaining how to work with pentatonic scales, Chuck talks about dominant 7 blues and the diminished scale. Throughout all of the lessons, Chuck's teaching style is warm and infectious. It's clear that Chuck enjoys the music he's playing and that he enjoys teaching it to others.
There's a LOT of information packed into the 1:15 of Blues with Brains. I think it'll take a number of run-throughs of the lessons in order to fully grasp the concepts Chuck is teaching, but I've already got some new ideas to explore.
In addition to Blues with Brains, Chuck has recently released a CD of jazz/fusion music titled Circle 7. Chuck's playing is very tasteful and illustrates many of the concepts he goes through in Blues with Brains.
You can purchase Blues with Brains directly from Chuck as either a DVD or a download. Here's a video sample of Blues with Brains.
Also check out reviews of Blues with Brains on TGP's Webzine and Guitar Gear Enthusiast.