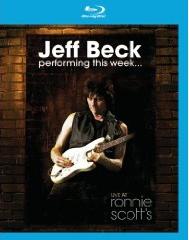 I'm excited to announce that I have three (3) copies of the Blu-Ray version of Jeff Beck's recently released video Performing This Week…Live at Ronnie Scott's to give away!
To Enter The Contest:
Send me your e-mail address by filling out the contact form using the subject "Jeff Beck", and indicate in the message that you want to be entered into the contest.* That's all you have to do! I'll randomly select the winners and notify them via e-mail. All entries must be received by May 17, 2009. I'll pick and notify the winners on May 18, 2009. Unfortunately, with apologies to my International friends, the contest is limited to only readers in the United States.
* NOTE: Your e-mail address will be used only to notify you if you are the winner. I will not use your e-mail address for any other purpose.
Information About Performing This Week…Live at Ronnie Scott's:
Performing This Week…Live at Ronnie Scott's is a compilation of a series of concerts that Beck performed in 2007 with his band at Ronnie Scott's club in London. Beck's band for these shows included Tal Wilkenfeld on bass, Vinnie Colaiuta on drums, and Jason Rebello on piano. Beck invited several guests to perform with his band, including Eric Clapton, Imogene Heap, and Joss Stone. The track list for the Blu-Ray is:
1. Beck's Bolero
2. Eternity's Breath
3. Stratus
4. Cause We've Ended As Lovers
5. Behind The Veil
6. You Never Know
7. Nadia
8. Blast From The East
9. Led Boots
10. Angel (Footsteps)
11. People Get Ready – with JOSS STONE
12. Scatterbrain
13. Goodbye Pork Pie Hat / Brush With The Blues
14. Space Boogie
15. Blanket – with IMOGEN HEAP
16. Big Block
17. A Day In The Life
18. Little Brown Bird – with ERIC CLAPTON
19. You Need Love – with ERIC CLAPTON
20. Rollin' And Tumblin' – with IMOGEN HEAP
21. Where Were You
Bonus Material:
Jeff Beck Interview: rare in depth interview talking about Ronnie Scott's, his band, the setlist and his guest performers. Interviews with the band members.
Blu-ray Exclusive Material: 7 Track rockabilly set with the Big Town Playboys exclusively available on the Blu-ray version:
1. Race With The Devil
2. Crazy Legs
3. Train Kept A Rollin'
4. My Baby Left Me
5. Matchbox
6. Baby Blue
7. Honky Tonk.
This is a great collection of songs by Beck and his group. Beck's playing is really inspired, and his band provides a solid foundation for his guitar pyrotechnics. They play pretty much all of Beck's hits, as well as several covers. Particularly noteworthy is Beck's cover of the Beatles' "A Day in the Life," which is probably my favorite track from the video.