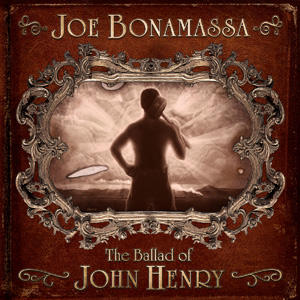 Although it's only March, it's looking like 2009 is going to be a great year for Joe Bonamassa. It's hard to believe, but this year, at age 31, he will celebrate his 20th year in the music business. In May, he'll be performing a concert at the legendary Royal Albert Music Hall in London. He's featured on the cover of the April 2009 Guitar Player magazine. And, he's recently released a new studio album called The Ballad of John Henry.
With each successive release, Bonamassa's albums get just a little tighter and a little more fully realized. The Ballad of John Henry continues that tradition. Like his earlier albums, this one has a mixture of covers and originals, with the originals being fueled by a breakup Bonamassa experienced last year.
I think that one of Bonamassa's strengths is picking out cover songs that he can personalize and make his own. On this album, he's chosen songs by Tom Waits, Tina Turner, Anthony Newley, and Tony Joe White. One of the most interesting covers on the album is Waits' "Jockey Full of Bourbon," which is somewhat of a departure for Bonamassa. "Stop!" is also a standout track and one of my favorites on the album.
The original songs are also very good. Bonamassa's songwriting is continuing to evolve. As mentioned earlier, most of the original songs on this album have been fueled by a heartbreak that Bonamassa experienced last year. As a result, the songs are a mixture of happiness, sadness, and regret. In the past, I think Bonamassa's songwriting has been overshadowed by his enormous guitar talent and great covers. However, I think his songwriting really takes (or at least shares) center stage on this album. I think the originals are the strongest tracks on the album.
Anyone who's a fan of Bonamassa knows to expect great tones on his albums. And, The Ballad of John Henry is full of great guitar tones. From the baritone-fueled heavy riffs of the album's opener to the Les Paul-infused tones that make up most of the rest of the album, The Ballad of John Henry is drenched in great guitar tones. His signature Les Paul model, along with a number of other guitars, were plugged into a mixture of Marshall and Fender amps to achieve the tones on the album. If you're a fan of the guitar at all, you'll love the tones on this album.
In my opinion, The Ballad of John Henry is easily one of the top albums to be released so far this year. Joe Bonamassa continues to get better with each album, and The Ballad of John Henry is one of his best studio albums. However, no matter how good his studio albums are, they don't quite capture the full effect of seeing him perform. He is truly a monster guitar player. If he travels through your area, I highly recommend catching him on tour.