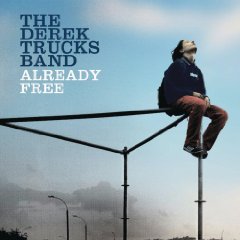 The Derek Trucks Band are set to release their new album, Already Free, on January 13, 2009. I've been a fan of Trucks since first hearing about him and picking up his self-titled first album over 10 years ago. And, with each album, he and his band seem to expand into new directions while still managing to maintain a familiar sound.
Already Free contains 12 new tracks, which were recorded in Derek's home studio in Jacksonville, Florida. Here's a short video about the band's experience recording in Jacksonville:
The track list of Already Free is:
1. Down In The Flood
2. Something To Make You Happy
3. Maybe This Time
4. Sweet Inspiration
5. Don't Miss Me
6. Get What You Deserve
7. Our Love
8. Down Don't Bother Me
9. Days Is Almost Gone
10. Back Where I Started
11. I Know
12. Already Free
"Down In The Flood" is a Bob Dylan tune that the band is covering for this record. You can preview the song on their Web site, and you can download the song on iTunes. I'm not familiar with Dylan's version, but the DTB version is very good.
Based on the samples I've heard, I think the album's going to be very good. However, I always enjoy hearing Trucks playing slide guitar, so I'm a little biased. Trucks is a great guitar player and is one of the best slide guitar players around.
You can find out more about Already Free and listen to "Down In The Flood" by going to the Derek Trucks Band Web site or by visiting their MySpace page.