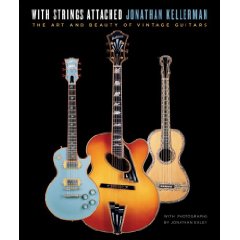 When not playing guitar or working, I can often be found reading, and one of my favorite authors is Jonathan Kellerman. Many of Kellerman's Alex Delaware series of novels mention the guitar, so it was no surprise to me to find out that Kellerman is an avid guitar collector. And, apparently he has a world-class vintage guitar collection that he has featured in a new book titled With Strings Attached: The Art and Beauty of Vintage Guitars.
From the product description:
Kellerman takes us on a fascinating guided tour through his collection, complete with rich personal histories of his favorite instruments and of the brilliant, often eccentric craftsmen and musicians who brought them to life. It is a record of one man's lifelong love affair with the guitar . . . and it is much, much more.