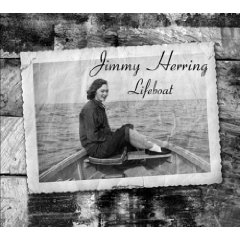 Guitarist Jimmy Herring recently released his debut solo album, titled Lifeboat. Although this is Herring's first solo album, he is already well-known in the guitar community. He's played with some great bands, including The Allman Brothers, Col. Bruce Hamptons' Aquarium Rescue Unit, the Dead, and Phil Lesh and Friends, and he is now the lead guitarist for jam-band supergroup Widespread Panic.
In addition to Herring on guitar, Lifeboat includes some great supporting musicians, including Jeff Sipe on drums, Oteil Burbridge and bass, Kofi Burbridge on piano and flute, and Matt Slocum on clavinet, piano. Derek Trucks also plays on two songs. Even with these great musicians, Herring's guitar is the centerpoint of this album.
I've been a fan of Herring's for a while, ever since hearing of him when he was playing with the Allman Brothers and Jazz is Dead. However, I wasn't sure what to expect with his solo album. What it is is a fantastic jazz-rock fusion album. The Dixie Dregs/Steve Morse influence is undeniable, but Herring definitely stands on his own in the jazz-rock world. The album includes six songs written by Herring, two songs by Kofi Burbridge, a cover of Wayne Shorter's Lost, as well as an interpretation of Disney's The Jungle Book.
I know I'm listening to a great guitar instrumental album when I forget that I'm listening to a guitar instrumental album. In other words, when the music grabs me more than the guitar playing. That's what happens with Lifeboat. While the guitar playing is amazing, the music itself is equally good.
With Lifeboat, Herring further solidifies himself as one of the leading jazz-rock fusion guitarists of our time. His playing is fluid and harmonious, and the music sings with emotion. If you're already a fan of Jimmy Herring, you'll love Lifeboat. If you're new to Herring, Lifeboat is a great starting point.
Note: To commemorate the release of the CD, Abstract Logix recently published an interview with Herring.
Win a Free Copy of Jimmy Herring's Lifeboat!
Abstract Logix has graciously and generously agreed to give one lucky fan of Guitar Lifestyle a copy of Lifeboat! To enter to win: all you have to do is send me an e-mail by filling out the contact form using "Herring" as the subject and letting me know that you want to be entered into the contest. I'll randomly select a winner on November 15, 2008.
Please enter only once. Also, I'd appreciate it if you'd help spread the word about the contest! Good luck!