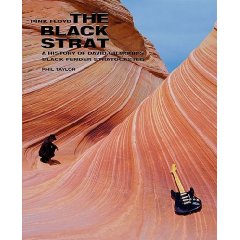 The Black Strat, the book about David Gilmour's legendary black Stratocaster by Gilmour's long-time guitar tech Phil Taylor, is being released by Hal Leonard on Monday, September 22. The book has been expanded and revised for this second edition.
The release of the book is to coincide with the release of Gilmour's new 2CD/2DVD set, Live at Gdansk. Also, Fender will be releasing the David Gilmour Signature Stratocasters on Monday, so it's a big day for Gilmour!
Unfortunately, I'm sure it'll also be a bittersweet day for Gilmour, as Pink Floyd founder Richard Wright passed away this week. In an odd coincidence, my father-in-law has been in town for the past few weeks, and we've watched several Pink Floyd/Gilmour DVDs, where Wright is featured prominently.
For more information about The Black Strat, visit the official Web site for the book.