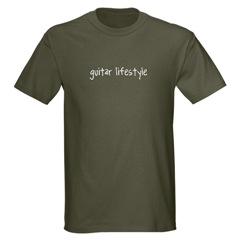 I love t-shirts. I feel like a good t-shirt sets the tone for the day. If I'm in a guitar mood, I'll put on a guitar-related t-shirt, and the shirt will help keep me focused on the guitar throughout the day, even if I'm not around my guitar. It's also a great conversation starter; it lets people know that you're a guitar player. And, one of the things that I've wanted to do ever since starting the Guitar Lifestyle Web site in 2005 was to create a guitar-related t-shirt. To that end…
I'm very pleased to announce the availability of the Guitar Lifestyle t-shirt! The Guitar Lifestyle Web site is currently being redesigned by my friends at Purr Design, and the Guitar Lifestyle t-shirt sports the new logo design that they have come up with, which I'm very fond of. The shirt is available in several different colors: Military Green (shown), Black, Cardinal, Navy, Red, Royal, Brown, and Charcoal.
The shirts are fulfilled by CafePress, which is a well-known online provider of custom-made products. I have the Military Green shirt and am very impressed with the quality of the shirt. The shirt is pre-shrunk and 100% cotton.
If you love the guitar and guitar-related t-shirts like I do, show the world with the Guitar Lifestyle t-shirt!