GuitarCardio.com, a site created by Brad Heintz, is a site that helps you increase your guitar stamina through a series of user-selectable exercises. Brad explains why he created the site:
Like most people who have to practice at something, I found that the practice & warm-up part of my routine got stale pretty quickly, and that I was just running through the same scales again and again, not really stretching my finger skills or my knowledge of music theory.

I'm also a software engineer. And like most software engineers, my first approach to a problem – any problem – is to try to write a solution.

Thus was born GuitarCardio.com, the practice tool that keeps my practice sessions and warm-ups fresh and challenging. I tell it what keys I want to work in, what scales I want to practice, and how hard I want the exercise to be, and I get a customized practice regimen on the spot. I'm pretty pleased with it – it's done a tremendous job of scratching my particular itch, and I've put it on the web to see if it can't maybe help someone else as well.
The GuitarCardio site provides a selection screen where you can select the key, scale-type, and difficulty level for the exercise. The resulting exercise is shown in tab with a finger diagram to help you along. Brad plans on adding things like additional scale types and modes, as well as site features like user profiles.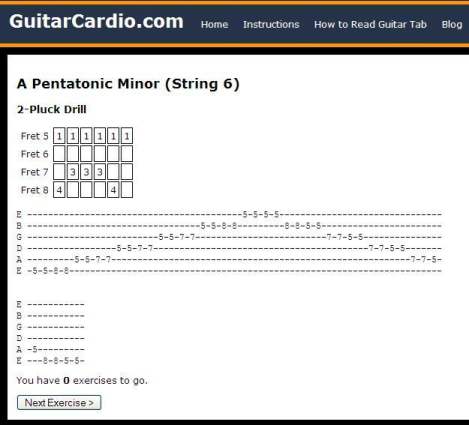 (via Guitar Pug)