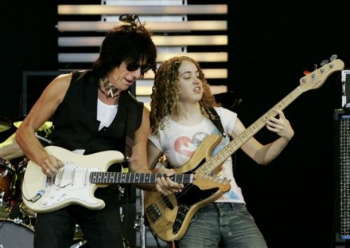 Bassist Tal Wilkenfeld has been featured in Gibson's Lifestyle section in a piece by Jerry McCulley titled "Meet Tal Wilkenfeld, Jeff Beck's Young Aussie Bass Prodigy." The piece covers a brief history of Tal's career to date, including her stints with Chick Corea, the Allman Brothers, and of course Jeff Beck:
By 20 she'd become variously a band leader and in-demand session/live player who'd gigged with the Allman Brothers and recorded Transformation, a well-received debut solo album she cut in two days of hectic NYC sessions, recordings which she also composed and arranged. At 21 she was touring Australia with Chick Corea, who she says "had heard about me and was looking for a bass player and so I sent them some of my stuff. Then I got this call from his people and they said: 'Hey, do you want to do these gigs in Australia?' And I was like, 'Yes, sir!'"
I think we'll see some great things from Tal in the future!
* Photo credit: Gibson.com