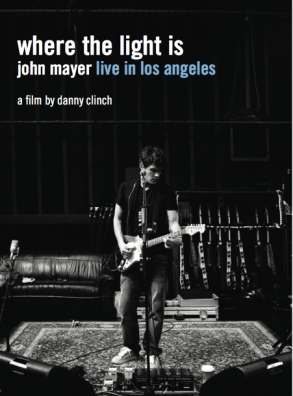 John Mayer will be releasing a live CD/DVD combo called "Where the Light Is" on 7/1/08. The CD/DVD combo is a recording of the charity show that Mayer did last December featuring three sets. The first set was an all-acoustic set, the second set featured the John Mayer Trio, and the third set featured the full John Mayer Band. The following details the track listing on the CD/DVD:
Acoustic Set:
1. Neon
2. Stop This Train
3. L.A. Song
4. Daughters
5. Free Fallin'
Trio Set:
6. Everyday I Have The Blues
7. Wait Until Tomorrow
8. Who Did You Think I Was
9. Come When I Call
10. Good Love Is On The Way
11. Out Of My Mind
12. Vultures
13. Bold As Love
Band Set:
14. Waiting On The World To Change
15. Slow Dancing In A Burning Room
16. Why Georgia
17. The Heart Of Life
18. I Don't Need No Doctor
19. Gravity
20. I Don't Trust Myself (With Loving You)
21. Belief
22. I'm Gonna Find Another You
It looks like a great track list! I didn't get to make it out to the show in December, so I'm looking forward to the release of this CD/DVD set.
* Photo courtesy of JohnMayer.com