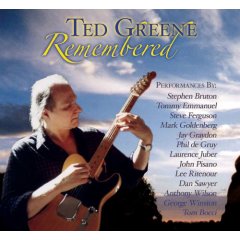 A few months ago, Tom Bocci sent me a review copy of Ted Greene Remembered, a musical tribute to guitarist Ted Greene. Truth be told, I hadn't heard of Ted Greene prior to receiving the CD. However, it became clear with a little research that Ted was a well-respected guitarist and teacher with many fans.
The Ted Greene Remembered CD seems to be a fitting tribute to Mr. Greene. The CD features great performances by Tommy Emmanuel, Laurence Juber, Lee Ritenour, Phil du Gruy, Stephen Bruton, Steve Ferguson, Mark Goldenberg, Jay Graydon, John Pisano, Dan Sawyer, Anthony Wilson, George Winston, and Tom Bocci.
Proceeds from the sale of the CD will help support the TedGreene.com Web site, which will allow future students to benefit from Mr. Greene's teachings.