UPDATE: I've currently taken FretQuiz off the market. However, a new version of FretQuiz will be available at some point in the future. Thanks for your interest.
One of the most important things you can do to improve as a guitar player is to learn all of the notes on the fretboard and where each note is located. To that end, I'm extremely excited to announce the release of FretQuiz, a software quizzing application for learning the notes of the guitar fretboard!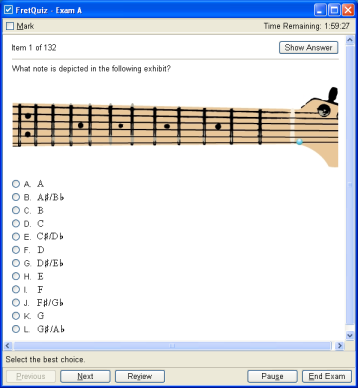 Some features of FretQuiz include:
132 Questions
Detailed Explanations
Question Review
Score Reports
Score History
View more features
Free Trial! Download a free trial to view a small sample of questions and see how FretQuiz works.
Introductory Pricing! You can purchase FretQuiz for an introductory price of $19.
System Requirements: FretQuiz runs on Windows 2000, Windows XP, and Windows Vista computers.
Have a guitar- or music-related blog? Contact me to find out how to get a free review copy of FretQuiz. Note: Please include a link to your blog.
If you have any questions about FretQuiz, please don't hesitate to contact me.