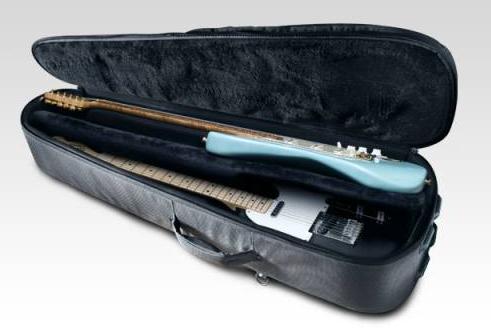 I was recently looking for a laptop case and stumbled across a company called Incase, which makes laptop bags, iPhone and iPod cases, and, to my surprise, guitar cases. One of the distinguishing characteristics of Incase is their design; these guitar cases look very nice.
In addition to their "Slim Bag" line of guitar and bass cases, which hold a single guitar or bass, they carry a line of cases they call "Dub Bag" that can carry two guitars or basses. This looks very handy for taking multiple guitars to a gig.
Here's what Incase says about their guitar cases:
What makes Incase the performance leader?

Protection: Each bag contains Incase's unique layered foam system, constructed from the highest-grade materials to provide shock absorbing protection to keep the most important areas of the guitar safe.
Experience: Incase expertly brings together versatility, functionality, and intelligent organization with a minimalist design to deliver an unprecedented portability experience.
Another nice feature of Incase's guitar cases is a sleeve and pocket for your laptop so you can carry it with your guitar in one case. The cases have the standard case handle on the side of the case, as well as backpack-style straps for more easily carrying your guitar.
I haven't used Incase products before, but based on what I've seen on the Incase Web site, I'm considering their laptop bags now and will consider their guitar cases if and when I need a new one. Let me know if you've used any Incase products before. I'd like to hear your experiences with them.
* Photo credit: www.goincase.com