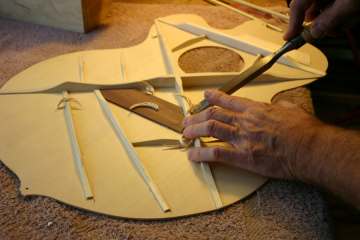 Mark Dalton, a founder of acoustic guitar maker Huss & Dalton, recently held a workshop on guitar making at one of my favorite local guitar stores, Artisan Guitars. I had never heard of Huss & Dalton before, but it appears that they are fairly well known in bluegrass circles. They are a niche guitar maker who make high-end guitars and banjos. The workshop also featured a concert by Richard Bennett.
Mark was very interesting and discussed quite a bit about wood, bracing and finishes. I liked the fact that he said that they respect tradition, but aren't shackled by it. They'll innovate where they can, but adhere to traditional guitar making standards when it is appropriate to do so. The guitars they build appear to be of a very high quality, with my favorite being their 12-fret 00 series of guitars, but they also make dreadnought and jumbo-sized guitars.
During a discussion of Brazilian Rosewood, Mark mentioned that the availability of Brazilian Rosewood may become even harder to get than it already is. Apparently, the Brazilian government, in an attempt to crack down on poachers, is going to prevent any Brazilian Rosewood from being cut and exported, even from stumps that have been left from previous clearing. It's sad that poachers will prevent this wonderful tonewood from being used in the future, but it highlights the need for preservation and prevention efforts of the wood that is remaining.
While searching for more information about Huss & Dalton, I found an article published on Guitar Noise featuring an interview with the other founder, Jeff Huss, and a tour of the shop. You can view more photos of their shop on their Web site.
After seeing the workshop and discussing guitar building with my friend Taylor, I'm inspired to build a guitar. Now I just need to find the time to do so.
* Photo from Huss & Dalton's Web site