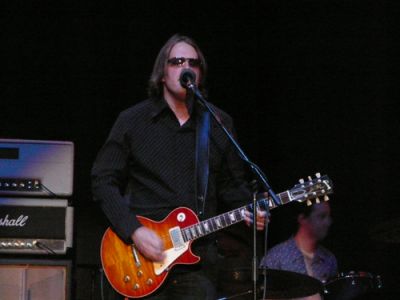 I had the recent pleasure to catch Joe Bonamassa as he traveled through Nashville on November 24th playing at the Tennessee Performing Arts Center. This was the first time I've seen Joe in concert, so I didn't know what to expect, though I had heard that he puts on a good show. It was by far one of the best shows I've seen in a while.
I'm a relatively new fan of Bonamassa, having heard his name for years but never really paying attention to his music. I'm paying attention now. After jamming with Bonamassa, Ted Nugent was recently quoted as saying "This kid deserves to be in the same class with Stevie Ray Vaughan and Jimmy Hendrix and Jeff Beck." That's some pretty heavy praise, but not unwarranted. Bonamassa is a fantastic guitarist and showman.
During the show, Bonamassa mentioned that his latest album, Sloe Gin, had been at the top of the Blues charts since it came out, only recently being replaced by the Stevie Ray Vaughan collection Solos, Sessions & Encores. I can attest that Sloe Gin is an excellent album. The album contains a generous mixture of electric and acoustic songs, and Bonamassa excels at both. The mixture extends to his live show with Joe playing an acoustic series of music, which was a highlight of the show.
Since I enjoyed the entire show so much, it's hard to pinpoint any particular part that was the highlight. However, I did really enjoy Bonamassa's covers of ZZ Top's "Just Got Paid" and Led Zep's "Dazed and Confused" and would consider those a definite highlight. The encores were fantastic, as well.
I didn't know this ahead of time, but it looks like Joe posts about his day on his Web site. His Nashville post includes such details as the Tyson after show chicken he ate for lunch, but also includes information about his trip to Gruhn's Guitars and subsequent purchase of a 2006 National Resophonic guitar (which he did not play at the show). Most interestingly, though, is his conversation with the Gibson Custom Shop guys about a JB Limited Edition Les Paul. It'll be interesting to see what happens with that.
Although his current US tour is winding down, I'd highly recommend checking out his show if it comes to your area. In the meantime, you can check out some videos that Joe has put online from the North Sea Jazzfest, which includes many of the songs from his current setlist.
* Photo taken by Al and courtesy of www.jbonamassa.com.