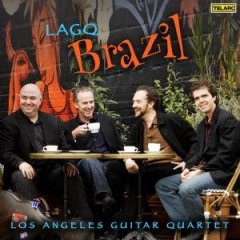 The Los Angeles Guitar Quartet have released their latest CD Brazil, which features the music of Sergio Assad, Marco Pereira, Hermeto Pascoal, Baden Powell, Antonio Carlos Jobim, Heitor Villa-Lobos, and more. This CD marks the first recording with newest member Matthew Greif, and also on the recordings is vocalist Luciana Souza. The Brazil CD was recorded at George Lucas' Skywalker Ranch, which I imagine was an interesting experience in and of itself.
As an editorial aside, I am a big fan of Andrew York who left the group last year. It'll be interesting to see how the dynamic has changed with York no longer in the group.
The LA Times have reviewed a recent performance by LAGQ. I've had the pleasure of seeing a live performance by the LAGQ, and I would agree with the LA Times:
Although the four guitarists — John Dearman, William Kanengiser, Scott Tennant and new guy Matthew Greif — are classically trained, their omnivorous musical interests have brought them to a global repertoire of genres and styles. And, like Yo-Yo Ma, they have explored these genres with extraordinary authenticity.