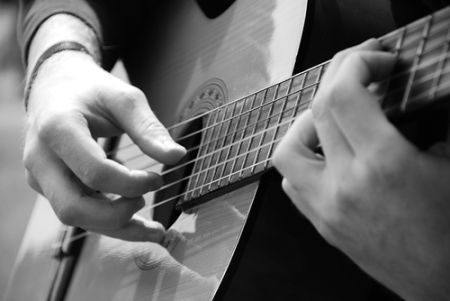 One of the questions that I've heard many guitarists ask is whether they should learn how to play classical guitar. I've stated often on my blog that I studied classical guitar for a few years in college, and I can state unequivocally that those two years made me a better guitar player. However, learning to play the classical guitar is not for everyone.
Learning to play classical guitar music will not make immediately make you a better rock, blues or metal guitar player. It will, however, make you a better technical player, which often translates to a better command of the instrument. This in turn will help you get better at other musical styles. During the first year or so of learning to play classical guitar music, you primarily focus on technique, rather than on making music. This lays the foundation that you can then build upon.
When I started playing the classical guitar, my guitar teacher at the time indicated that the classical guitar is a different instrument than the standard acoustic guitar, and he was right. A classical guitar is not simply an acoustic guitar with nylon strings. The classical guitar contains different dimensions and has a wider neck that allows for more precise finger picking. If you're familiar with playing a standard acoustic dreadnought guitar, then playing a classical guitar will feel awkward at first. However, I found the classical guitar to be quite comfortable after getting used to it.
Additionally, classical guitar music is very different from modern rock, blues and metal music. With classical music, you should attempt to play the music as it is written; there's not a lot of room for improvisation when playing classical music. This isn't always true, but more often than not it is. Thus, learning to play classical music will not directly help you improvise when playing rock or jazz music, but the music theory foundation that is often built in correlation with learning the classical guitar will help you learn the instrument in detail so that you can improvise when playing other styles of music.
Although more rigid than other playing styles, I love playing classical music and the classical guitar. As I stated earlier, I believe that the technique I built while learning to play the classical guitar has ultimately translated to other styles, but it wasn't a direct translation. If you want to get a better command of the instrument, I'd recommend attempting to learn to play the classical guitar. To truly gain any benefits for other playing styles, you should be willing to commit to spending the time to build the technical foundation, and I believe doing so will reap rewards in the future.