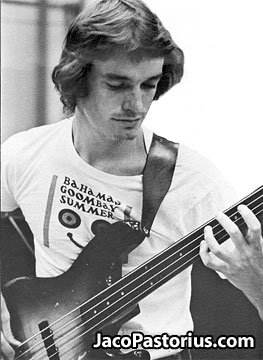 Twenty years ago on September 21, 1987 the world of music lost bass legend Jaco Pastorius. His death was a tragic result of a violent confrontation that occurred outside a Florida club on September 11, 1987, during which Jaco sustained critical injuries. Although Jaco had suffered health problems later in his life, he made a tremendous impact on the world of bass guitar, both as a solo musician and as a member of Weather Report.
I must confess that I'd never heard any of Jaco's music until last week. I finally picked up and listened to a bit from his solo album, Jaco Pastorius, and Heavy Weather by Weather Report. I'm amazed at how good he really was. I see why he was called The World's Greatest Bass Player. In addition to his solo work and his work with Weather Report, Pastorius played on many other albums, including albums by Joni Mitchell, Al Di Meola and Mike Stern.
Jaco was well known for playing Fender Jazz Basses. On one Fender Jazz Bass, he removed the frets in order to make a fretless bass. According to Wikipedia, he felt that frets were "speed bumps" that got in the way.
I encourage you to add Jaco Pastorius to your musical playlist this week in remembrance of one of the greatest bass players to ever play the instrument. Below is a video of Jaco Pastorius playing "The Chicken."
* Photo credit: JacoPastorius.com