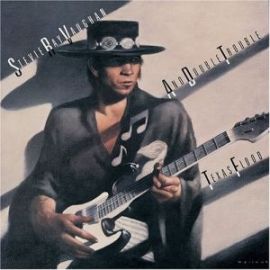 Last week, specifically August 27th, marked the 17th anniversary of Stevie Ray Vaughan's passing. Arguably, few other modern blues-rock guitarist have had the mainstream, and lasting, impact that Stevie Ray has had. Regretfully, I never had the chance to see Stevie Ray live, but, fortunately, he leaves a legacy of recordings and videos.
Recently, IG over at IGBlog recommended getting "on the Hendrix" budget and buying Jimi Hendrix music. Similarly, in celebration of Stevie Ray's life and music, I would encourage you to pick an SRV & Double Trouble album you don't have or haven't heard and revisit one of the masters of modern blues guitar. There's very little Stevie Ray music that I don't like, but if you're just starting out with SRV, I would suggest starting at the beginning and getting Texas Flood. After that, my favorite is probably In Step, then The Sky Is Crying. However, you can't go wrong with any SRV music, in my opinion.
What's your favorite Stevie Ray Vaughan CD?