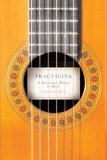 Most musicians know that practicing can sometimes become tedious. However, few musicians realize how much practicing it takes to become a concert classical musician. More specifically, to become a concert classical guitarist. Glenn Kurtz knows the level of dedication that it takes to attempt to become a performing classical musician.
In his book, Practicing: A Musician's Return to Music, Kurtz describes how he quit music after realizing that he was probably not going to become a concert guitarist and his subsequent return to playing the guitar after years of giving it up. I came across this book in a local book store and was intrigued by the cover, which focuses on the sound hole of a classical guitar. As someone one spent several years in a classical guitar program in college, I can sympathize with how much time and effort go into performing classical pieces on the guitar. Consequently, much of Practicing resonated with me. Several passages especially resonated with me:
Whether you're an athlete, a surgeon, a hairdresser, or a circus clown, technique defines the scope of your ability. It is both the refinement in what you do and the barrier to doing more, doing it better. When you want to improve at anything, therefore, you must develop your technique. It is the battleground between your habits and your ideal.
As guitarists, we know how important technique is. It's what we work on each day to get better. But, as Kurtz points out, it's also what holds us back.
Later, Kurtz continues his discussion about practicing:
Practicing is a story. Sitting down with your instrument, you imagine yourself into the future better than you are now, having passed through a limbo of work that changes you. The story creates continuity in change, giving the work context, so that each day's small step adds up to a journey. As long as you keep practicing, almost any goal seems attainable, a matter of time and effort. Each day, each moment, might be fraught with frustration. Still, the story of your practicing absorbs your work, good or bad, showing you the way forward.
Kurtz's story is probably not unlike many musicians who dream of being a concert musician only to find the road much different than they had imagined.
Included in the back of the book are Listening notes, where Kurtz identifies classical guitar music that he recommends listening to. He also includes Reading notes, where he recommends several guitar methods, as well as other books about practicing music.
I enjoyed reading Practicing: A Musician's Return to Music, and learning more about Kurtz's story. I believe Kurtz's journey would be interesting for anyone who has ever dreamed of being a concert musician.