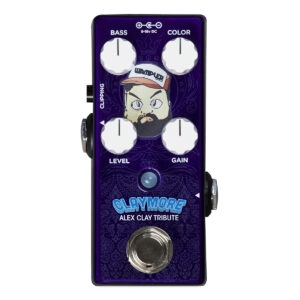 If over the past few years you interacted with Wampler Pedals via their Facebook page, you likely saw posts from Alex Clay. Alex was a much beloved Wampler employee who recently passed away.
To commemorate Alex, Brian Wampler has created a new pedal called the Claymore Overdrive:
Based on a classic low gain overdrive circuit which Brian has tweaked to perfection, The Claymore is a strictly limited edition pedal designed to commemorate the immeasurably sad passing of our tone brother, Alex Abernathy Clay. We loved Alex – theres no other way to phrase it – he was the baby in our team, the soft spoken gentleman with a wicked sense of humor, and everyone at Wampler Pedals is mourning his loss harder than anyone would like to admit. He was a devoted husband to his childhood sweetheart Jessica, and a proud loving father to Tyler and Grayson, and all of the profits from this pedal will go to them.
What a nice tribute and a nice way to provide some financial assistance to his family.
Wampler is currently taking pre-orders for the pedal.