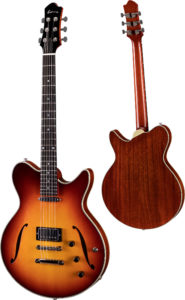 One of the new guitars that Eastman announced at the NAMM show was the Romeo-SC:
Romeo-SC is the first Eastman guitar to include a lipstick style pickup,  via  Seymour Duncan's Vintage Stack in the neck – in addition to a  Seymour Duncan '59 pickup in the bridge. This allows for an incredibly versatile range of tones that seduces the imagination from all genres. It's also the first guitar in the lineup to feature a beautiful Red Burst finish, found exclusively on Romeo.
The dual-humbucker Romeo was announced at last year's Summer NAMM show, and I had a chance to play one at that show. It played very nicely and had a great feel. I think I'd prefer the dual-humbucker version, but I'm curious to hear how the lipstick pickup in the neck position sounds in this new version.