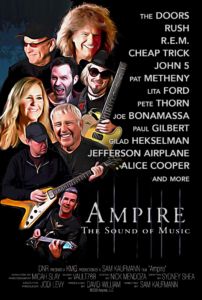 Ampire looks like it could be an interesting movie:
Ampire is a feature length film which takes a fun peek into the evolution of 'Sound': the Amp and the ever changing voice it has given the guitar. Ampire is loaded with laughs, great behind the scenes stories, little known facts and even a few secrets.

All new, never before seen interviews with artists and band members of The Doors, Rush, R.E.M., Cheap Trick, John 5, Pat Metheny (2018 Lifetime Achievement Award), Lita Ford, Pete Thorn, Joe Bonamassa, Paul Gilbert, Black Eyed Peas, K.D. Lang, Rob Zombie, Chris Cornell, Lynyrd Skynyrd, Gilad Hekselman, Peter Bernstein, Jefferson Airplane, Alice Cooper, Frank Sinatra and Elvis Presley's bands are featured.
You can watch the trailer below, and you can rent it for $1.29 directly on Vimeo.
I haven't seen it yet, but plan to rent it in the near future.