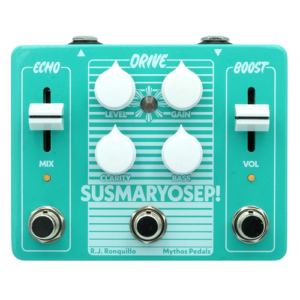 Mythos Pedals is an effects company based out of my hometown of Nashville, TN that is run by Zach Broyles. Zach has collaborated with another local guitarist (and popular YouTuber), R.J. Ronquillo, to create the SusMaryOsep:
A unique collaboration between Mythos Pedals and guitarist R.J. Ronquillo! The SusMaryOsep! is a 3-in-1 do it all pedal that offers players a clean boost, the Herculean V2 overdrive, and simple yet musical echo circuit.

In early 2019 R.J. approached me to put the Herculean V2 and a slap echo in one box. Initially the idea was just for echo to have a single mix control, eventually we added a Time and Feedback trim controls to the side. We added the boost after the name came, SusMaryOsep is a common Filipino slang word and we think is befitting of this 3-in-1 stompbox. The color, had to be a strong Teal and while the LEDs don't look it, they light up a bright Pink!

Tight/Punchy clean boost with slight boost at minimum and approx. 20dB at max.

Herculean V2 offers up clear and bright to dark and smokey overdrive sounds.

Echo circuit features a PT2399 chip with approx. 450ms of delay time. External Mix slider with side accessible Time and Feedback trimpots.

Top Mount Jacks

True Bypass Switching

Top quality jacks, switches, pots, and components throughout.
I'm really interested in trying this pedal out. The only type of delay I ever really use is a slapback echo, so I can see this being pretty useful for a small and simple setup.
Furthermore, I'm a fan of these types of 2- or 3-in-1 pedals, and what I've seen and heard of Zach's work so far has been top notch.