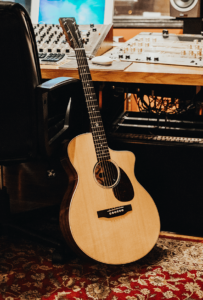 The new Martin SC-13E looks like an interesting addition to their product line:
It's time to rethink what an acoustic-electric guitar can do. Do you want to play leads all the way up the neck? Play longer? Play louder? Now you can with this super-comfortable, easy-to-play acoustic-electric from Martin.

The all-new SC-13E, with its patent-pending Sure AlignTM neck system, gives you full access to all frets so you can comfortably reach those high notes. It's also equipped with a new, low-profile velocity neck barrel that ergonomically accommodates your hand as you move up the neck, giving you the comfort and playability of an electric.

It was designed from the ground up to be plugged in, and its asymmetrical body shape provides balanced output, giving you more gain before feedback. So the next time you're on stage with an SC-13E, go ahead, play it loud.

But, don't forget, the SC-13E is still a Martin, so it sounds amazing unplugged. And with the limitations of the conventional cutaway acoustic-electric removed, you can now play your way, any way, without limits.
I like the new body design. It's innovative, yet classic at the same time. Based on the pictures, this looks like it's a somewhat smaller body, which I tend to prefer in acoustics.
Here's a video Martin did detailing the thinking behind the design: