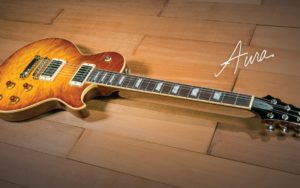 Suhr is one of my favorite boutique builders. To date, pretty much their entire line involved 25.5″ scale guitars, with Classic S, Classic T, and Classic JM styles as well as their Modern series. For years, fans have asked John Suhr to make a short-scale guitar. To celebrate Suhr's 20th anniversary, Mr. Suhr has answered those requests with the new Suhr Aura:
It is with great pleasure that we announce the Suhr Aura™ 20th Anniversary Single Cut Guitar. This is a special year for us here at Suhr® as we get ready to celebrate our 20th anniversary. A special year deserves a special guitar. Allow us to introduce you to Aura™.

Single cut, set neck guitars are near and dear to our hearts. John Suhr says, "I grew up playing this type of guitar. It's been a dream of mine to make the perfect version for me; one that eliminates the niggles that always personally bugged me."
The guitar will have the following features:
A deep-dish carve top
24.625″ scale length
Frets that lay over the binding
A headstock that promotes strength and tuning stability
Ergonomic body contours
Easy upper fret access
A lightweight body that isn't chambered or weight relieved
For 2018, the Aura will be limited to 100 guitars worldwide, with John Suhr himself working on the guitar along with his Production Manager Mike Ponce. Given the limited run and Mr. Suhr's involvement, the initial run of the Aura will be priced between $7,500 and $8,000. John has said that they'll be evaluating whether to introduce the guitar more widely after the first year, which will hopefully mean a larger run at a reduced price.