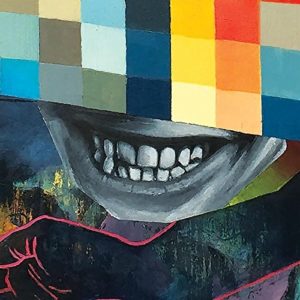 This is a roundup of a few things I've been enjoying this month:
1. Doom Side of the Moon – This is a side project from Sword guitarist Kyle Schutt. As its name suggests, this is a tribute to Pink Floyd's Dark Side of the Moon. It's a fairly faithful interpretation, while adding in some of the "Doom" elements that Sword is known for. I'm enjoying this one more than I thought I would.
2.  Elixir OPTIWEB Electric Guitar Strings – I've tried several versions of Elixir strings in the past, and none of them have stuck. I've been playing Ernie Ball Slinkys for over 20 years, so I'm very familiar with those, and the Elixir coated strings have felt too different to change. However, I recently had a chance to try out some of their new OPTIWEB coated strings, and I've actually been enjoying playing these. These feel much more like the Slinkys and had a brighter tone than other coated strings when first used. Additionally, they've so far remained a bit brighter than the Slinkys I put on my other guitar at the same time. It remains to be seen how much longer they'll last than the Slinkys, which will be the real test of whether these are worth the price premium.
3. Milligan Vaughan Project – This is a collaboration between Austin veterans Malford Milligan and Tyrone Vaughan. They recently released their debut album, MVP, and I've been enjoying it. There's nothing particularly new about the album, but it combines some really nice guitar work with Milligan's distinctive vocals making for an enjoyable album.
4. Analogman Beano Boost – A friend of mine picked up a Beano Boost about a year ago and he's been encouraging me to pick one up ever since. I finally picked one up not too long ago, and it's really added an extra dimension to my amp. It's based on the Dallas Rangemaster Treble Booster with a few added tonal options. It can get quite fuzzy with the boost rolled up, but it doesn't get muddy like every fuzz pedal I've tried. It works best into an amp that's already breaking up at least a little.
5. That Pedal Show – This has been one of my favorite YouTube channels lately. Dan and Mick play off each other really well and have different enough styles that you can get a pretty good feel for the pedals that they test. New episodes come out every Friday, and there's a nice backlog to keep you entertained while waiting for new episodes.