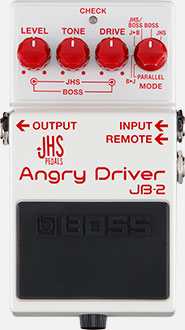 Boss recently surprised the pedal industry by collaborating with JHS Pedals to create the JB-2 Angry Driver:
To celebrate the 40th anniversary of BOSS compact pedals, BOSS and JHS Pedals have come together in a historic creative collaboration between the two industry leaders. Housed in the classic BOSS compact design, the JB-2 Angry Driver pairs the tones of the iconic BOSS BD-2 Blues Driver with JHS Pedals' popular Angry Charlie. Working closely together, the two pedal innovators have developed an all-new combined circuit with refined sound and performance perfectly tuned for dual-mode drive operation.

The JB-2 Angry Driver features three dual-concentric knobs that provide independent drive, tone, and level control for each overdrive type. Via a six-position mode selector, you can use each overdrive independently, or combine them together in series and parallel configurations. With the ability to blend the Blues Driver's famously expressive low-to-mid gain tones with the Angry Charlie's aggressive rock voice in any combination, the JB-2 Angry Driver delivers unmatched range and versatility from a single overdrive pedal.
This is quite an interesting pairing. Even though it's fairly ubiquitous and has been for years, I have not played through a Blues Driver before, but I have played through the Angry Charlie and I really liked it. It's a great Marshall sound.
I like the switching options that the JB-2 comes with. It's interesting that you can run the two sides in so many different combinations, including running both in Parallel Mode. It's clear Boss really thought through this pedal, and it looks like they've done a solid job.
Dan and Mick at That Pedal Show recently did a feature of this pedal where they detail a lot of the options. They also compared it to the pedals it's based on as well as a Marshall Guv'nor pedal: